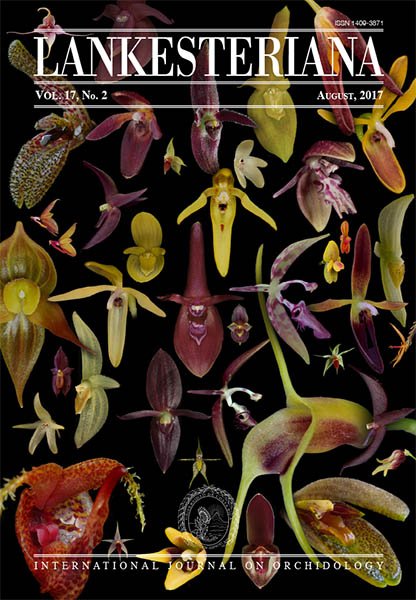 Pupulin, F., A. P. Karremans & N. Belfort Oconitrillo, 2017. Two new species of Echinosepala (Orchidaceae: Pleurothallidinae). Lankesteriana 17(2): 285–304.
Abstract. We describe and illustrate two new species of Echinosepala from Costa Rica, they are placed within a phylogenetic framework of the genus, and compared to their closest relatives. A short resume of the genus' history is given, reviewing the main characters that have been used to group its species at various taxonomic ranks. Echinosepala expolita is compared with E. pan, from which it mainly differs by the glabrous, inflated sheaths that cover the ramicaul, the distinctly broader ligulate-lanceolate leaves, the lanate-hirsute ovary, the much larger flower, and the tomentose abaxial indumentum of the sepals. Echinosepala longipedunculata is similar to E. aspasicensis, but can be recognized by the unusually long peduncle, the greenish yellow flower, the verrucose-tuberculate adaxial surface of the sepals, and the shorter, truncate, orange lip. A key to the Costa Rican species of Echinosepala is provided. A new combination in Echinosepala is proposed for Acianthera biseta from Peru.
Resumen. Se describen e ilustran dos nuevas especies de Echinosepala de Costa Rica, discutiéndolas dentro del marco filogenético del género y comparándolas con sus parientes más cercanos. Retomamos brevemente la historia del género, revisando los principales caracteres que han sido utilizados para agrupar sus especies en diferentes rangos taxonómicos. Echinosepala expolita se compara con E. pan, de la cual difiere principalmente por las vainas glabras e infladas que cubren el ramicaule, las hojas distintamente ligulado-lanceoladas, el ovario lanado-hirsuto, la flor mucho más grande y la indumentaria abaxial tomentosa de los sépalos. Echinosepala longipedunculata es similar a E. aspasicensis, pero puede ser reconocida por el pedúnculo inusualmente largo, las flores amarillo-verdosas, la superficie adaxial verrugosa-tuberculosa de los sépalos y el labelo más corto, truncado y de color naranja. Se proporciona una clave taxonómica para las especies costarricenses de Echinosepala. Se propone una nueva combinación en Echinosepala para Acianthera biseta.
Key words: Acianthera, Echinosepala aspasicensis, Echinosepala pan, flora of Costa Rica, Myoxanthus, new species, phylogenetics, pseudo-glenion

PDF [ 8.0 MB]