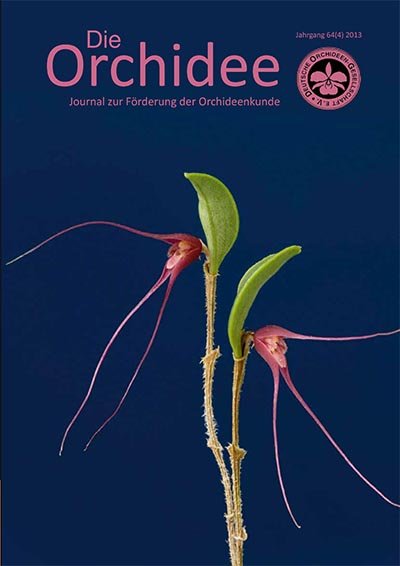 Fernández, M. 2013. Tubella - die etwas anderen Trichosalpinx. Tubella: Those other Trichosalpinx. Die Orchidee 64(4): 310-317.
Abstract. The genus Trichosalpinx is a member of subtribe Pleurothallidinae and was described 30 years ago by C.A. Luer (1983). It was later subdivided in four subgenera named Trichosalpinx, Tubella, Pseudolepanthes and Xenia (Luer 1997). Although the subgenus Trichosalpinx encompasses nearly a thirty out of the approx. 107 species currently accepted, it is the subgenus Tubella that comprises the largest number of the members of the genus with 65 species. Despite of their beauty, Tubellas have remained nearly out of the focus of orchid books and magazines, until now.
Resumen. El género Trichosalpinx es un miembro de la subtribu Plurothallidinae y fue descrito hace 30 años por C.A. Luer (1983). Fue más tarde subdividido en cuatro subgéneros denominados Trichosalpinx, Tubella, Pseudolepanthes and Xenia (Luer 1997). A pesar de que el subgénero Trichosalpinx abarca cerca de un tercio de las aproximadamente 107 especies actualmente aceptadas, es el subgénero Tubella que comprende el mayor número de miembros del género con 65 especies. A pesar de su belleza, las Tubellas han quedado casi fuera de la atención de los libros y revistas de orquídeas, hasta ahora.

Key words: Costa Rica, Orchidaceae, Pleurothallidinae, Trichosalpinx, Tubella, morphology.
PDF [709 KB]